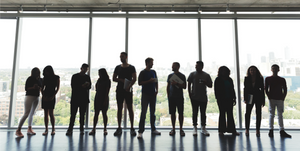 Great people make great products
OUR BRAND STORY
We created Soulace to encourage others to live a more balanced life. Not everyone shares the same definition of success or walks the same path to get there. We believe shoes should work for you, and Soulace provides comfortable and versatile silhouettes that easily blend with your go-to work outfit and your favorite lounge wear. Trust yourself, you got this.
At Soulace we do our best to stay encouraging and empowering.  In order to show appreciation for those around us, we took the time to write Bio's for one another.  This is how we feel about our team!
MEET the Team
Lauren Bain
BRAND DEVELOPMENT MANAGER
Lauren brings creativity, ambition and an energy that drives Soulace. Her love for the outdoors challenges Soulace to be as sustainable as possible. While her naturally caring character pushes us to connect with people and bring something good into the world... Beyond shoes of course.
Contact Lauren
Rob DiClemente
CHIEF XPERIENCE OFFICER
The Curious Creator - Entrepreneur, musician, good friend. Rob is our explorer. He has dabbled in all departments but has landed in product development and operations at Soulace.  Rob's attention to detail is top notch but nothing matches his ability to get #$%@ done!
Contact Rob
Josh Cochrun
CHIEF VISION OFFICER
Josh sees the best in everyone.  He is a dreamer and works hard to accomplish those dreams.  He doesn't sit around and wait for things to happen to him; he goes out and makes them happen. Josh is a leader all teams want; hardworking and respectable, all while maintaining an approachable presence
Contact Josh
At Soulace Footwear, we're proud to partner with Soles4Souls. When you return or share your gently worn shoes with us, you help us support Soles4Souls in turning unwanted shoes and clothing into opportunities for those in need.
Learn More